"Morgan Stanley as a company embodies many of the traits that I pride myself on: focus, integrity and giving back. I am looking forward to having them on Team Rose. Morgan Stanley is a leading global financial services firm providing investment banking, securities, wealth management and investment management services. With offices in more than 42 countries, the Firm's employees serve clients worldwide including corporations, governments, institutions and individuals."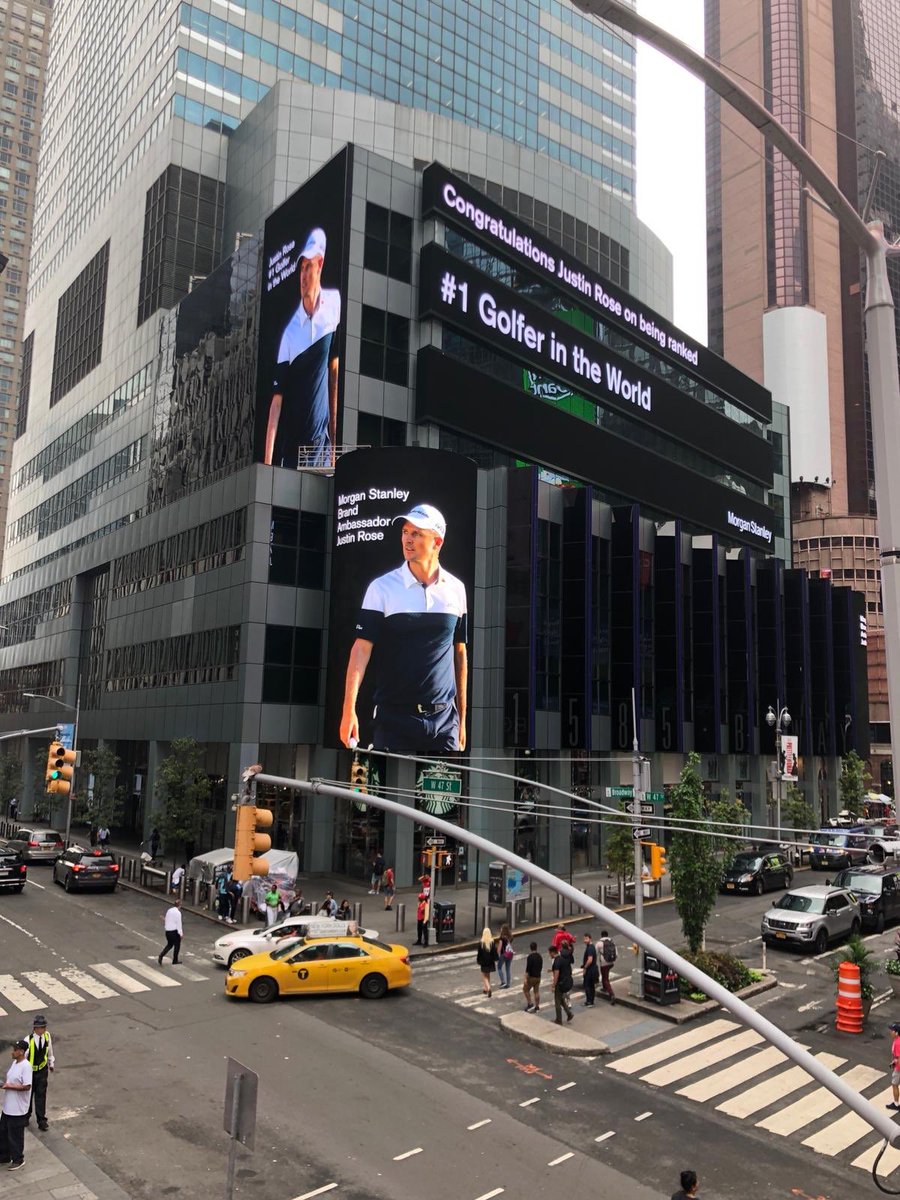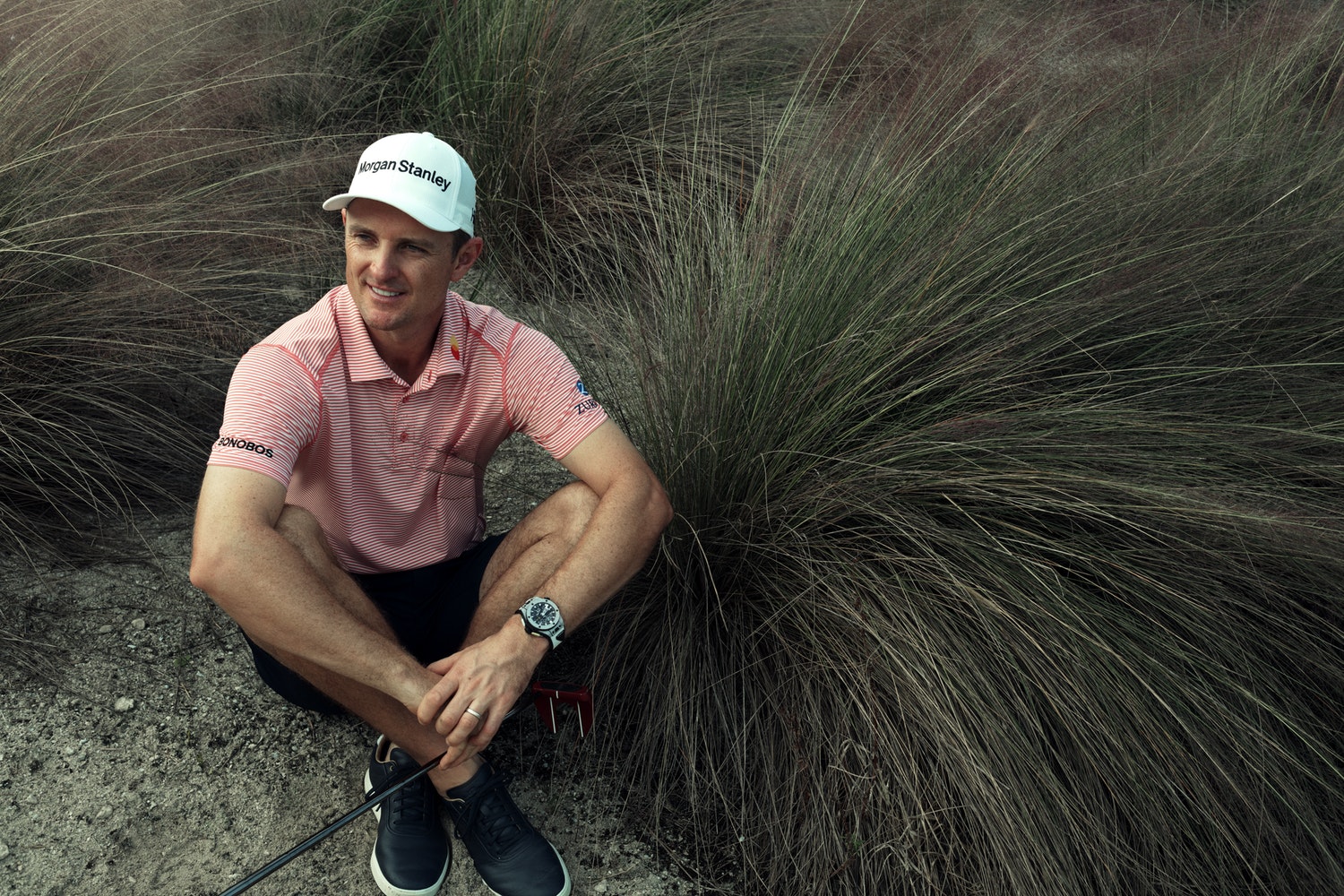 The Justin Rose Challenge Contest | Official Rules
NO PURCHASE OR PAYMENT OF ANY KIND IS NECESSARY TO ENTER OR WIN. A PURCHASE OR PAYMENT WILL NOT INCREASE YOUR CHANCES OF WINNING. VOID WHERE PROHIBITED. The Justin Rose Challenge ("Contest") begins at 1:00:00 PM Eastern Time ("ET") on Tuesday April 30th, 2019 and ends at 8:59:59 PM ET on Thursday May 30, 2019 ("Contest Period"). The computer clock of Sponsor is the official time-keeping device in the Contest.
This Contest is in no way sponsored, endorsed, or administered by Twitter, Inc. ("Twitter") or Instagram, Inc. ("Instagram"). All questions, comments or complaints regarding the Contest should be directed to the Administrator at the address listed below and not to Twitter or Instagram.
1. ELIGIBILITY: The Sweepstakes is open only to legal residents of the 50 United States and the District of Columbia (includesAlaska & Hawaii), who are at least 21years of age or older at the time of Contest registration.  In order to participate, you must have aTwitteror Instagram account. Employees, officers and directors of Morgan Stanley & Co. LLC (the "Sponsor"), Excel Sports Management, LLC ("Administrator"), their respective parent companies, affiliates, subsidiaries, advertising, and fulfillment and marketing agencies, (collectively, "Promotion Parties") their immediate families (parent, child, sibling & spouse and their respective spouses, regardless of where they reside) and persons living in the same households as such individuals (whether related or not) are not eligible to participate in the Contest.
Sponsor reserves the right to verify the eligibility of winner. By participating in the Contest, you release, discharge and hold harmless Promotion Parties, their respective parents, affiliates, subsidiaries, retailers, advertising and promotion agencies and the respective officers, directors, employees and agents of each of the foregoing, from any and all damages whether direct or indirect, which may be due to or arise out of participation in the Contest or any portion thereof, or the acceptance, use/misuse or possession of any prize. By participating, you agree to these Official Rules and to the decisions of the Sponsor, which are final and binding in all respects. Void where prohibited by law, rule or regulation. All federal, state and local laws and regulations apply.
Entries will be judged based on the Contest Judging Criteria set forth below. Neither the Sponsor nor any of its employees are involved in the judging or setting of the criteria. By participating in the contest, you are attesting that you are not a "Covered Person" or a "Government Official".
A Covered Person is defined as representatives (e.g., officers, principals, proprietors, employees, or agents) who are acting in a representative capacity) of:
· A client or prospect who manages, controls, directs, or influences the client's or prospect's account at the Firm
· Financial institutions;
· News, media, or financial information organizations;
· Brokers or dealers in securities, commodities, or money instruments
· Securities exchanges or their member organizations;
· Self-regulatory organizations, such as FINRA, and their member firms;
· U.S. or non-U.S. government entities;
· Unions;
· Credit Rating Agencies, which include Fitch, Moody's Investors Service, and Standard & Poor's Ratings; or
· ERISA Fiduciaries
A Government Official includes any officer, employee or representative of a U.S. federal, state, local, or Non-U.S. Government Entity, or any person acting in an official capacity on behalf of a Government Entity. A Government Entity includes:
· Governments, governmental agencies and instrumentalities and public international organizations;
·      Companies  that  are  partially  or  wholly-owned  or  controlled  by  a  government  or governmental agency (not withstanding that the company may be publicly listed); or
· Political parties, including candidates of the party.
2. HOW TO PARTICIPATE: To complete an entry during the Contest Period,  upload a video or photo of your best bunker, water hazard, pesky putt or first tee shot with the corresponding campaign hashtag, #JustinRoseChallenge through the Twitter or Instagram applications ("Official Contest Post"). You must have the Twitter or Instagram account used for the Contest made public. Limit of one (4) entries per person, throughout the ContestPeriod.
You may not submit more than 4 entries, or your entry will be invalid. You agree that you will not use the Official Contest Video or the Official Contest Post for any other purpose, including, without limitation, posting it to any online social networks (other than for entry into this Contest), without the express consent of Sponsor in each instance.
3. CONTEST JUDGING CRITERIA: Entries will be judged based on the Contest Judging Criteria set forth in this section. Neither the Sponsor nor any of its employees are involved in the judging or setting of the criteria. Justin Rose will be choosing the winner based on the level of difficulty and creativity of the content generated by contestants. The selection of the winner will be at the sole discretion of Justin Rose. Entries must be received before the end of the Contest Period to be eligible for the drawing.
4. WINNER NOTIFICATION: If the potential winner has enabled direct messaging on his/her Twitter or Instagram account, the potential winner will be notified via direct message on his/her account from Administrator within three (3) days of the winner selection or as soon thereafter as reasonably practicable. If the potential winner does not have direct messaging enabled through his/her Twitter or Instagram account, the potential winner will receive prize notification via a comment or reply on the retweet from the Administrator with a call to action to email the Administrator using the email address provided in the comment on the Twitter or Instagram account. The potential winner will be required to send the Administrator his/her contact information consisting, but not limited to, the following: Full Name, Email Address and Full Mailing Address. Except where legally prohibited, the potential winner will also be required to sign and return, within seven (7) days of being notified, an Affidavit of Eligibility, Liability & Publicity Release ("Affidavit"). Once the potential winner has submitted the required information and Affidavit, then and only then will the potential winner be deemed the "winner." If such potential winner cannot be contacted within a reasonable time period, if the potential winner is ineligible, if any notification is returned undeliverable, if he/she fails to sign and return the Affidavit within the required time period (if applicable), or if the potential winner otherwise fails to fully comply with these Official Rules, he/she will forfeit that prize and an alternate winner will be selected from among all remaining eligible entries.
5. PRIZE/PRIZE RESTRICTIONS: One (1) Contest prize ("Prize") will be awarded during the Contest as described below: Six Honma golf clubs and custom bag. The total ARV of the Contest Prize is $2,726.00
PRIZE RESTRICTIONS: If it is discovered during prize verification you have entered, attempted to enter, or used multiple accounts to enter more than the stated limit, you will be disqualified at the discretion of the Sponsor, or will be void. Entries generated by script, macro or other automated means or which subvert the entry process, are void. The Prize will be mailed to the winner at the address provided by the winner by July 2019. Promotion Parties are not responsible for late, lost, stolen, damaged, delayed, or undelivered prizes.
PRIZES ARE AWARDED "AS IS" WITH NO GUARANTEE. ALL WARRANTIES, WHETHER EXPRESS OR IMPLIED, INCLUDING THE WARRANTIES OF MERCHANTABILITY AND FITNESS FOR A PARTICULAR PURPOSE, ARE HEREBY DISCLAIMED BY THE PROMOTION PARTIES. ALL PRIZE DETAILS ARE AT SPONSOR'S SOLE DISCRETION. ANY COSTS AND EXPENSES ASSOCIATED WITH PRIZE ACCEPTANCE AND USE NOT SPECIFIED HEREIN AS BEING PROVIDED ARE WINNERS' SOLE RESPONSIBILITY.
6. OWNERSHIP OF ENTRIES: By using the "#JustinRoseChallenge" hashtag on Twitteror Instagram to submit an entry, you agree to be bound by these Official Rules and grant Sponsor a non-exclusive, fully paid-up and royalty-free, worldwide license to use, modify, delete from, add to, publicly perform, publicly display, reproduce and translate your entry, including without limitation the right to distribute all or part of your entry in any media formats through any media channels. By submitting an entry, you consent to the use, by Sponsor, its affiliates, subsidiaries, parents, and licensees, of your name, Twitter or Instagram handle and your likeness, imageor avatar associated with your Twitter or Instagram handle, in connection with the Contestand Sponsor's related marketing activities, in any media or format now known or hereafter invented, in any and all locations, without any payment to or further approval from you. You agree that this consent is perpetual and cannot be revoked. For uses beyond the consent that you grant above, you agree that Sponsor's use of your personal data will be governed by the Privacy Policy posted on the Sponsor website.
7. GENERAL PRIZE CONDITIONS:Prize will only be awarded by Sponsor upon potential winner's verification of eligibility and final approval by Sponsor. Sponsor reserves the right to perform a detailed background check on the potential prizewinner and by entering the Contest, you hereby authorize Sponsor to perform the same in the event that you are selected as a potential winner. No prize substitution, cash equivalent of prizes, transfer or assignment of prizes is permitted, except by Sponsor which reserves the right to substitute a prize with one of comparable or greater value, in its sole discretion.
8. MISCELLANEOUS: Promotion Parties are not responsible for late, lost, incomplete, corrupted, stolen, garbled, damaged, delayed, undelivered or misdirected entries, all of which are void. Entries will be considered to be entered by the authorized account holder of the e-mail address associated with the Twitter account usedto submit the entry at time of entry and he/she must comply with these Official Rules and theTwitter or Instagram Terms and Conditions located at www.twitter.com/tos and https://help.instagram.com/179379842258600. The authorized account holder is deemed as the natural person who is assigned to an e-mail address by an Internet access provider, online service provider or other organization that is responsible for assigning e-mail addresses for the domain associated with the submitted e-mail address. By entering the Contest, you recognize and agree that the registration information provided by you maybe made available to Sponsor; use of such information will be governed by Sponsor's privacy policy found at: http://www.morganstanley.com/us-privacy-policy.html. Upon entering the Contest, winners grant Administrator the right to print, publish, broadcast, and use world-wide in any media now known or later developed, the winner's name, portrait, picture, voice, likeness, city and state of residence, and biographical information for any purpose, including but not limited to, in advertisements, publicity, and other communications, worldwide, in perpetuity, without additional compensation, notification or permission, except where prohibited by law. You agree to comply with these Official Rules and the decisions of the Sponsor and judges shall be binding and final.
9. RELEASE: As a condition of entering the Contest, you agree that (1) under no circumstances will you be permitted to obtain awards for, and you hereby waive all rights to claim punitive, incidental, consequential or any other damages, and any claims, judgments or awards shall be limited to actual out-of-pocket expenses; (2) all causes of action arising out of or connected with this Contest, or any prizes awarded, shall be resolved individually, without resort to any form class action; and (3) in no event will you be entitled to receive attorneys' fees. BY ENTERING THE CONTEST, YOUAGREE TO RELEASE, DISCHARGE AND HOLD HARMLESS PROMOTION PARTIES AND THE RESPECTIVE OFFICERS, DIRECTORS, AND AGENTS OF EACH, FROM ANY AND ALL LIABILITY FOR ANY INJURY, LOSS, OR DAMAGE OF ANY KIND TO PERSONS, INCLUDING DEATH, AND PROPERTY, WHETHER DIRECT OR INDIRECT, WHICH MAY BE DUE TO OR ARISE OUT OF PARTICIPATION IN THE CONTESTOR ANY PORTION THEREOF, OR THE ACCEPTANCE, USE/MISUSE OR POSSESSION OF PRIZES, OR ANY PRIZE-RELATED TRAVEL OR ACTIVITY. YOU WAIVE ALL WARRANTIES, EXPRESS OR IMPLIED, INCLUDING BUT NOT LIMITED TO IMPLIED WARRANTIES OF MERCHANTABILITY AND FITNESS FOR A PARTICULAR PURPOSE.
10. DISCLAIMER: Promotion Parties are not responsible for printing or typographical errors in these Official Rules or in any Contest-related materials. Sponsor reserves the right, in its sole discretion, to disqualify any individual that tampers with the entry process. Sponsor also reserves the right to terminate, suspend, cancel or modify the Contest and award the prizes for the Contest from among all eligible, non-suspect entries received as of the date of termination in a random drawing for the Contest if for any reason this Contest is not capable of running as planned due to any reason, including infection by computer virus, bugs, tampering, fraud, unauthorized intervention, technical failures or other causes that may corrupt or impair the integrity, fairness or proper play of the Contest. Promotion Parties are not responsible or liable for any events which may cause errors and/or the Contest to be stopped, including but not limited to any error, omission, interruption, deletion, defect, delay in operation or transmission, communications line failure, theft or destruction or unauthorized access to, or alteration of, entries, nor are they responsible for any problems or technical malfunction of any telephone, network or telephone lines, computer on-line systems, servers, or cable, satellite, or Internet Service Providers, computer equipment, software or any other failure of any email or entry to be received by Sponsor on account of technical problems, human error or traffic congestion on the Internet or at any web site, or any combination thereof, including any injury or damage to yoursor any other person's computer relating to or resulting from participation in this Contestor downloading any materials in this Contest. Promotion Parties are not responsible for computer, mechanical, technical, electronic, network or other errors or problems, including any errors or problems that may occur in connection with the administration of the Contest, the processing of entries, or in any other Contest-related materials. The Promotion Parties may stop you from participating in this Contestif you violate Official Rules or act, in Sponsor's sole discretion: (a) in a manner Sponsor determines to be not fair; (b) with an intent to annoy, threaten or harass any other entrant or the Sponsor; or (c) in any other disruptive manner. Should more prizes be awarded through a computer, hardware, or software malfunction, error or failure, or for any other reason, in any prize category, than are stated for that category in the Official Rules, Sponsor reserves the right to award only the number of prizes stated in the Official Rules for that category. In no event will more prizes be awarded than that listed in Section 5.
CAUTION: ANY ACT OR ATTEMPT BY AN ENTRANT TO DELIBERATELY DAMAGE ANY WEBSITE OR UNDERMINE THE LEGITIMATE OPERATION OF THIS CONTEST IS A VIOLATION OF CRIMINAL AND CIVIL LAWS. SHOULD SUCH AN ATTEMPT BE MADE, PROMOTION PARTIES RESERVE THE RIGHT TO SEEK DAMAGES AND OTHER REMEDIES (INCLUDING ATTORNEYS' FEES) FROM ANY SUCH INDIVIDUAL(S) TO THE FULLEST EXTENT PERMITTED BY LAW.
11. CHOICE OF LAW AND JURISDICTION:Except where prohibited, all issues and questions concerning the construction, validity, interpretation, and enforceability of these Official Rules, or the rights and obligations of entrants or winners, Sponsor, and administrator in connection with this Contest, shall be governed by, and construed in accordance with, the laws of the State of New York, without giving effect to any choice of law or conflict of law rules or provisions (whether of the State of New York or any other jurisdiction), which might otherwise cause the application of the laws of any jurisdiction other than the State of New York. Any action seeking legal or equitable relief arising out of or relating to the Contestor these Official Rules shall be brought only in the courts of the State of New York. You hereby irrevocably consent to the personal jurisdiction of said courts and waive any claim of forum non-convenience or lack of personal jurisdiction they may have.
12. NO JURY TRIAL:  YOU AND THE PROMOTION PARTIES("THE PARTIES") UNCONDITIONALLY WAIVE THEIR RIGHTS TO A JURY TRIAL FOR ANY CLAIM OR CAUSE OF ACTION ARISING OUT OF OR RELATING TO, DIRECTLY OR INDIRECTLY, THESE OFFICIAL RULES, ANY RELATED DOCUMENTS, OR ANY DEALINGS BETWEEN THEMARISING OUT OF OR RELATING TO THE SUBJECT MATTER OF THIS TRANSACTION OR ANY RELATED TRANSACTIONS.
14. WINNERS LIST:To receive the list of winners of prizes, send a #10 self-addressed stamped envelope for receipt by June 15th, 2019 to: Justin Rose Challenge Winners List Request, c/o Excel Sports ManagementLLC, 1700 Broadway # 29, New York, NY 10019.
13. TAX INFORMATION:All federal, state, local, and other taxes on prizes and any other costs and expenses associated with prize acceptance and use not specified herein as being provided, are the sole responsibility of the winner.
SPONSOR:Morgan Stanley & Co. LLC, 1585 Broadway, New York, NY 10036
ADMINISTRATOR:Excel Sports Management LLC, 1700 Broadway # 29, New York, NY 10019
For more information about Morgan Stanley visit www.morganstanley.com